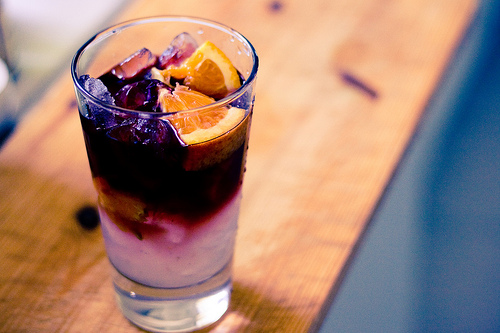 Each year I find improvements to make my Sangria easier to make and more delicious. So far, this is the best of both. And it all changed once I started using Riunite's Lambrusco sparkling red wine and Simply Limeade.
1 1.5 L Bottle of Riunite Lambrusco Sparkling Red Wine
1 Cup Bourbon or Brandy or (Vodka I guess) 😉
2 Navel Oranges
2 Apples
4 Limes
1 Bottle Simply Limeade
Pour wine into pitcher.
Add bourbon or brandy or (Vodka I guess) 😉
Squeeze the juice from one navel orange into pitcher, cut up the other one into slices and add to pitcher.
Squeeze the juice from two whole limes into pitcher and slice up the other limes into wedges for a garnish.
Cut apples into slices and add to pitcher.
Stir, cover with plastic wrap and let chill in refrigerator (or serve immediately if you just really want some now 😉 )
Take glass and fill 3/4 of the way with ice.
Fill glass 1/3 to 1/2 way with Simply Limeade.
Fill the rest with Sangria (you can play around with your own ratios for taste and strength), add an apple slice from the pitcher, and garnish with a sliced lime.